How to Install a Ceiling Fan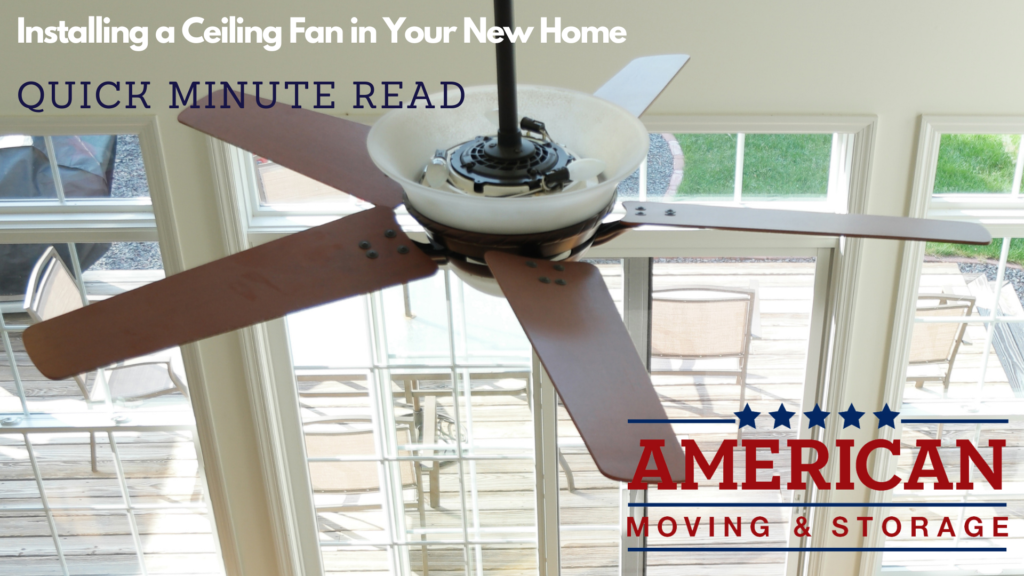 There is nothing quite like sitting on a porch and sipping a raspberry ice tea while watching the world go by.
The humidity in Savannah can make some afternoons hot enough to make a break seem like one of the best things in life.
If you have made the move, or are going to soon, there are some things you might want to add to your new place to make the summer a breezy scene from a Southern novel, like a ceiling fan.
If your new home doesn't have all the ceiling fans you want, you should know that you don't need to hire an electrician necessarily to install one.
Here are a few tips on ceiling fan shopping and installation:
WHY BUY A CEILING FAN
When the humidity makes your home so hot that you don't want to sit inside to stream your favorite show, a ceiling fan can move the air and save you money from turning on the air conditioner.
Ceiling fans can not only go in your living area, but are great for bedrooms to get a gentle breeze while still keeping the windows open at night to get that fresh air.
WHAT TYPE OF CEILING FAN TO BUY
The first thing to do when putting in a ceiling fan is to measure the size of your room to determine how large of fan you will need. There also are options like having a light on the fan if that is something you want for the room. With the addition of a light, the ceiling fan will take up more space, so make sure your ceiling is high enough in the area you are putting in the fan.
TIPS ON INSTALLING THE FAN*
Ceiling fans need to be anchored to an electric ceiling box that can handle the weight of the fan.
For an easier time, there are quick-install fans out there with three easy steps. If this is not your skill to install something, consider this option.
Turn off the power to the home and take down the old light or fan. Unhook the wires.
Place electrical tape across the power switch so no one turns that back on while you are working.
Secure the fan-mounting bracket to the ceiling electrical box.
Pull the wires through the center of the brace.
Attach fan bracket to the box.
Continue installing the rest of the fan to the mount.
Connect the wires from the fan by matching them up to the same color, black white and a ground.. Once you have connected the wires, push them into the junction box.
Attach the fan blades and light if you have one.
Turn power back on.
*Always follow the instructions for the fan you are installing! These are just broad guidelines.
QUICK TIPS
There are plenty of You Tube channels to watch how to install a ceiling fan, including ones from major retailers.
If you are not comfortable hooking up the wires, an electrician can do that for you in a matter of minutes.
For more post-move home improvement tips and ideas, check out what adding solar panels to your home can do!
READY FOR THE MOVE
If you are thinking of moving to Georgia and are now searching Savannah moving companies, you've taken the first step in your moving journey. Long distance moving companies Savannah GA are a necessity to getting all your items to your new home.
If you are moving to the area and searching Savannah moving companies, do yourself a favor and hire professional and reputable long distance movers. American Moving & Storage provides a wide range of moving options. Give us a call today at 912-401-0362 to discuss your upcoming move, or request your free moving quote online! Are you thinking of moving to the west coast? Visit our team at National Van lines and move anywhere in the United States. Check out this article on California Sports teams from our partners at McCarthy moving and storage!